Description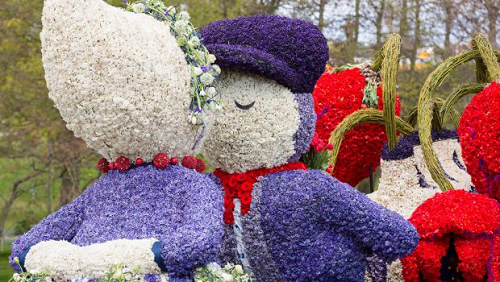 The Bloemencorso Bollenstreek [flower parade] happens at zaterdag 25 april 2020 This year's theme is "Freedom!"A day full of celebrations to enjoy all the beauty the worldwide renowned flower region has to offer. And that applies even more on a seat at a grandstand, which is covered, well catered (so one can enjoy a nice cup of coffee, a pastry or even a lunch package). Clean sanitary facilities are available and an experienced speaker highlights the specials of the passing flower parade. It's possible to park next to the grandstand, but be sure to be there on time.
Tickets voor een plek op deze tribune kosten 24,95 euro.
Wees voor het parkeren dus op tijd, want door drukte lopen de toegangswegen vol. Voor meer informatie, kijkt u hier >>
Het Bloemencorso wordt om 17.00 uur verwacht.
Extra opties
U kunt uw bezoek aan het bloemencorso verrijken met de volgende toevoegingen:
Rondvaart inclusief lunch

Waarom verfraait u uw bezoek aan het bloemencorso niet met een unieke rondvaart door de velden, waarbij u zich kunt vergapen aan de bloemenpracht. In de boot krijgt u bovendien een heerlijke lunch geserveerd met lekkere (streek)producten. Er zijn twee boten, een 11 persoonsboot en een 8 persoonsboot. De tocht duurt ongeveer anderhalf uur. De afvaart is op wandelafstand van de tribune, ongeveer 10 minuten.
Details:

Starttijden:

11.30 | 13.30 | 15.30

Price:

€39,95

Duur:

+/- 1,5 uur
Lunch at (former) agri-school

Heerlijke lunch in het authentieke hotel "Villa FLora", op korte loopafstand van de tribune. De Lunch is alleen vooraf te boeken en bestaat onder meer uit:

Hollandse soepen
Diverse soorten harde en zachte broodjes en diverse soorten beleg
Vers fruit & verse salade
inclusive drinks
Price:

€ 19,95

Start- en eindtijd:

12:30 – 16:00
Diner

Uitgebreid Diner/buffet, direct aansluitend na het passeren van het bloemencorso. Dit diner vordt gehouden in het authentieke hotel "Villa Flora", op korte loopafstand van de tribune. Het diner is alleen vooraf te boeken en bestaat onder meer uit:

Diverse salades, zoals vlees-, aardappel- en groene salade
Koude gemarineerde zalm
Varme gerechten, zoals Kippensate met bami/nasi, Gambaspiesjes en Runderstooflap
IJsdessert
inclusive 3 drinks
Price:

€ 49,95

Start- en eindtijd:

Direct na het corso – 21:00