Description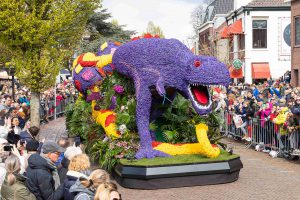 The Bloemencorso Bollenstreek [the Flower Parade] is on Saturday 23rd April 2022 This year's theme is "Celebrating Memories!". A joyfull day to experience all the beauty the bulb region has to offer. One can do this from a grandstand, where a foodtruck with cofee, snacks or a bite is nearby. Next to the grandstand are clean toilets. It's possible to park your car nearby, but please keep in mind to arrive on time.
Tip: This location is close to the bulb fields and a picturesque walk is easily accessible from here. The "Engelenkerk" church, a national monument is located opposite the Grandstand.
Tickets for a seat on this grandstand cost € 25.95. A parking ticket (whole day, € 7.50 ) is advisable as public parking areas are limited and fill up quickly.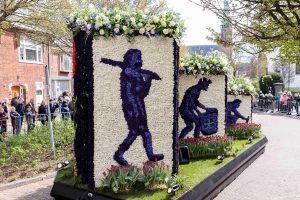 It is important to be at your Grandstand on time, as roads will close as early as 11.00 hours in the morning. If you come by bike or on foot, make sure you are at the Grandstand at 13.30 hours.
The parade is expected to pass by at 14.30 hours.
Extra options
Enjoy your visit to the Parade even more by booking any of the following additional activities.
Take a guided walk to De Tulperij Bulb Farm Experience via the bulb fields. You will be guided by the farmer himself and then enjoy lunch or a coffee/tea break.

De Tulperij is an bulb farm where there is much to see and experience. You will be escorted from the Grandstand through the fields by the farmer himself. Make sure you are on time at the grandstand. There are two separate programmes, one in the morning and one in the afternoon.

Morning Programme

10.45: Arrival at the Grandstand
11.00: Start of the excursion through the fields to De Tulperij by the bulb farmer himself
12.30: Lunch - Coffee/tea/juice, soup and two filled rolls. Vegetarian options available on request
13.45: Accompanied return to the Grandstand
14.00: at the Grandstand
14.30: Parade passes by
15.30: The end
This arrangement is only available if booked in advance. The price is:

€ 27.50 p.p

Afternoon programme

13.45: Arrival at the Grandstand
14.30: The parade passes by
11.00: Start of the guided excursion through the fields to De Tulperij by the bulb farmer himself
16.15: Coffee/tea and freshly baked Dutch Apple Cake
17.00: Accompanied return to the Grandstand
This arrangement is only available if booked in advance. The price is:

€ 17.50 p.p