Description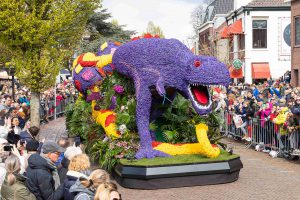 The Bloemencorso Bollenstreek [flower parade] happens at zaterdag 25 april 2020 This year's theme is "Freedom!"A day full of celebrations to enjoy all the beauty the worldwide renowned flower region has to offer. And that applies even more on a seat at a grandstand, which is covered, well catered (so one can enjoy a nice cup of coffee, a pastry or even a lunch package). Clean sanitary facilities are available and an experienced speaker highlights the specials of the passing flower parade. It's possible to park next to the grandstand, but be sure to be there on time.
Tickets voor een plek op deze tribune kosten 24,95 euro, een parkeerkaart kan bijgekocht worden, voor 7,50 euro per auto voor een hele dag.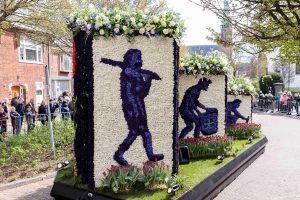 Please be on time, as roads will shut down as early as 11.00 in the morning. If you come by bike or walking, make sure you are at the Grandstand at 12.00.
The Flower Parade will be expected at 12.15 hours. Afterwards you are able to admire and photograph the Parade, as the Flower Parade takes a break a little further in Sassenheim, only a short walk away.
Extra opties
U kunt uw bezoek aan het bloemencorso verrijken met de volgende toevoegingen:
Rondleiding bij kweker mét workshop

Bezoek een kwekerij met tulpenkas en velden, vooraf (09.00) of achteraf (14.30) aan het corzo.
Tijdens de rondleiding worden u diverse bijzonderheden verteld over het kweken van bloemen & bollen. Na afloop van de rondleiding volgt een workshop bloemschikken bij de kwekerij. U kunt na afloop uw bloemstuk meenemen. De workshop is inclusief koffie/thee en cake.
Details:

Price:

€19,95

Starttijd ochtend:

09:00

Starttijd middag:

14:30
Kwekers Ontbijt/Lunch

Heerlijke Kwekers Ontbijt/Lunch met uitzicht over de velden. Eet op de veranda van een lokale kweker en geniet van het uitzicht. De Lunch bestaat uit onder meer Hollands aspergesoep, diverse hoofd- en bijgerechten. Vanaf de tribune is de wandeling ongeveer 20 minuten. LET OP: deze lunch/brunch is alleen vooraf te boeken!
Details:

Price:

€ 19,95

Starttijd ochtend:

11:00

Starttijd middag:

13:30