Description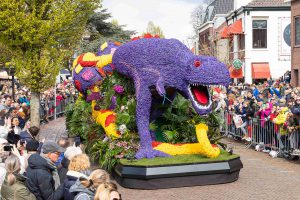 The Bloemencorso Bollenstreek [the Flower Parade] is on Saturday April 25th 2020. This year's theme is "Freedom!"Celebrate and enjoy the beauty the flower bulb industry in this area of the Netherlands (literally bulb area) has to offer. It is even more enjoyable while seated at a covered grandstand, well catered (enjoy a nice cup of coffee with a pastry or even a lunch package). Clean sanitary facilities are available and an experienced speaker highlights the specials of the passing flower parade. Parkingspaces next to the grandstand are available if you arrive on time.
Tickets voor een plek op deze tribune kosten 24,95 euro, een parkeerkaart kan bijgekocht worden, voor 7,50 euro per auto voor een hele dag.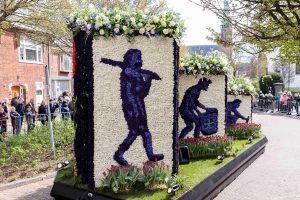 It is important to be at your Grandstand on time, as roads will shut down as early as 11.00 in the morning. If you come by bike or walking, make sure you are at the Grandstand at 12.00.
The Flower Parade will be expected at 12.15 hours. At lunchtime the flower parade will take a break in the Hoofdstraat and the Rijksstraatweg just a little outside the center of Sassenheim. You'll be more than welcome to admire the parade and take plenty of pictures.
Additional reservations
Enjoy your visit at the Parade even more by booking the next activities:
Tour in a local Horticulture Greenhouse and workshop.

Visit a tulip grower and his fields either before (at 9.00 am) or after (at 2.30 pm) the passing through of the parade. The grower himself will tell you about the growing of bulbs and flowers. After the tour, you'll take a workshop in making flower arrangements. The workshop includes coffee/Thea, cakes and you'll be able to take your flower arrangement with you.
During the tour you'll be introduced into the specifics of breading bulbs and flowers. After the tour, you'll take a workshop in making flower arrangements. The workshop includes coffee/tea, cakes and you'll be able to take your flower arrangement with you.
Details:

Price:

€19,95

Early tour starts at 9 am

09:00

Afternoon tour starts at 2.30 pm

14:30
Breakfast or lunch at the horticulture's greenhouse

Enjoy a wonderful breakfast or lunch with a breathtaking view over the flower fields. You'll be seated on the veranda and enjoy the view. For lunch you'll be served a traditional Dutch asparagus soup followed by different main- and side dishes. It is a 20 minutes walk from the Grandstand Sassenheim. IMPORTANT: please note that you can book this brunch only in advance.
Details:

Price:

€ 19,95

Early tour starts at 9 am

11:00

Afternoon tour starts at 2.30 pm

13:30